Homes typically sold at a record pace of one week and received full asking price from July 2020 through June 2021.
Tenure in the home dropped from 10 years to eight years, the largest year-over-year decline in the history of the data set.
Eighty-seven percent of buyers used an agent or broker, and 90% of sellers hired an agent to sell their home.
Among repeat home buyers and home sellers over the last year, a key factor for moving was the desire to live closer to family and friends, while an equally important motivator was the need for more space or a bigger home. Sellers as a whole were able to benefit in these transactions, typically earning their full asking price, and selling in one week.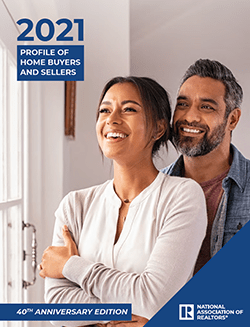 These driving forces to move as well as further sales figures appear in the National Association of Realtors®' 2021 Profile of Home Buyers and Sellers,1a yearly report – now in its 40th year – that analyses demographics, preferences and experiences of buyers and sellers across America.
"During the pandemic, buyers and sellers have been driven by the desire to be close to family and friends, as well as the need for a larger home," said Jessica Lautz, vice president of demographics and behavioral insights at NAR.
Among sellers, as a group they traded up in price, size and newer residences, as 46% purchased a larger home and 28% purchased the same size home.
Relocating to be closer to family had been increasing in recent years, according to Lautz, however, the COVID-19 outbreak accelerated that trend.
In past years, convenience to work and affordability had ranked as top factors for reasons to move.